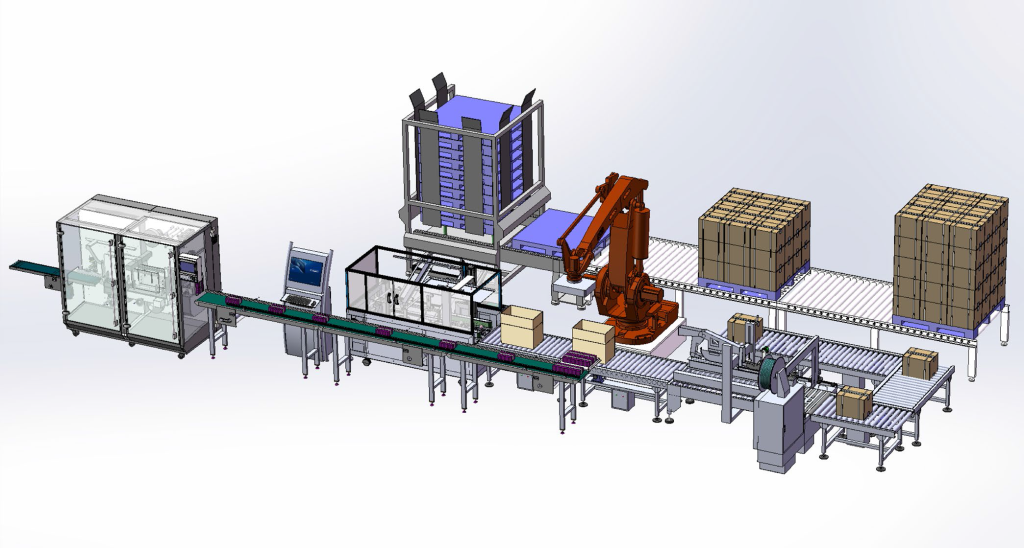 (1).Brief introduction
  For the customer back-stage packaging automation development and design, to meet the packaging production of the follow-up line production. The whole line adopts advanced technology, uses artificial intelligence and multi-axis robot to assist, realizes the customer different product and the different packing automation individuality demand.
  (2).Working principle
  By open box machine, packing machine, sealing machine and conveying connection equipment to form a production line, at the same time can be equipped with automatic placement of upper and lower pad mechanism, automatic placement certificate mechanism; the whole machine adopts the PLC man-machine interface operating system, by servo drive mechanism to complete the open box and packing action. This line is suitable for automatic packing of products of different specifications of users, can be used on a single machine or online with the front-end packaging machine, complete its automatic packing after packaging production line connection.
  (3).Features&characteristics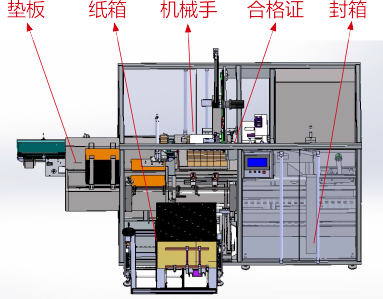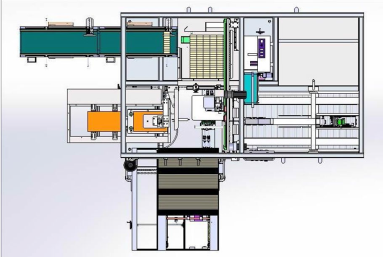 Ø Adopt advanced servo intelligent drive, main motor adopt frequency conversion speed regulation control;
  Ø PLC man-machine interface operating system
  Ø Cover the small area, fast packing speed;
  Ø Meet personalized packing requirements
  Ø High stability, strong compatibility and convenient adjustment.
  (4).Main production capacity(Specific design in according to packaging product specifications)
  Ø Box opening speed:8~20 box/min
  Ø Box packing speed:2~10 box/min
  Ø Box sealing speed:12~20 box/min
  (5).Main product specification
| | |
| --- | --- |
| Applicable carton scope | Max L550*W350*H350mm |
| Packaging speed | According to the number of packing layers, the manipulator speed ≧10 times per minute |
| Power supply specifications | 220V/50Hz |
| Power | 5.5Kw |
| Gas source working pressure | 0.6mpa |
| Full dimension | L4000*W2900*H1850mm |